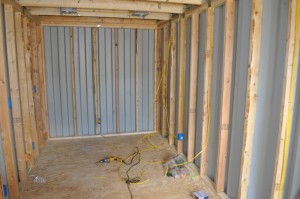 Sometimes you stumble upon someone doing EXACTLY what you get asked about all the time. Today's post is one of those times. The Saner Container has covered a lot of different aspects of modifying containers, but nothing can get people's imagination going more than the issue of insulation - traditional roll insulation, board insulation or the new fancy spray foam insulation materials that do everything from keep you warm to make you coffee. I get this question constantly. Today, we are borrowing from another blog to show you how to do it!
Containers are great for a lot of things – including exaggerating the weather outside.
Hot steamy summer? Heat up a little more inside a container. Freezing cold outside, aside from stepping out of the wind, containers are no warmer on the inside. So how do you work around this? There are several ways, but one of the great ways to do it is to frame the container, use spray foam insulation and finish it off. The capable people at Greenfire Farms are in the process of making a solar barn that will also house their office.
They bought a nice, one-trip 20' container. They are blogging as they go. We saw them make concrete pillars for the container and had a crane move the container onto the pillars. They insulated the flooring as well.
Once they framed the container without using putting any holes in the container, they installed their electric and wiring installed. They used Icynene spray foam, which has a R-20 factor when installed at 6" thick, which is what they did. I particularly loved their description of the foam. It is "one of those wonder chemical concoctions that saves the environment, eliminates acne, and turns to water when a flame is applied. (I'm not making this up.)"
The farm is located in Florida, but they are installing an AC unit, which they hope to run on solar power eventually. The insulation is to keep it nice and cool inside. They finished off the walls and floors and are installing a batch solar water heater for hot water for the sink.
We'll keep an eye on this project, but check out their blog for even more pictures. As always, click on any of the pictures to make them bigger.
Have you insulated a container? What worked? What didn't? Share your experiences!