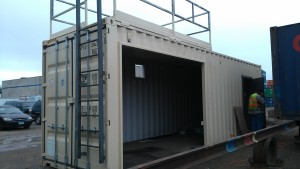 Industrial applications for cargo containers are limitless. Containers are ideal for housing various equipment onsite and offsite. They can have work areas in them or simply provide a safe place for equipment or materials. You can design them for domestic or international use. Since most of our industrial clients put proprietary items in the container, we are not going to focus on that as much today as much as things to consider when designing your industrial container modifications.
4) What kind of access will you need for the container? Will you need to move large equipment in often? Just once? Will a variety of people be accessing the container on a regular basis? Depending on how you answer these questions you may want to keep the swing doors accessible, add in a man-door. You may have regulations that require panic doors for emergency exits.
5) Do you have a container vendor who understands the complexity of what you are looking to do? Buying a container is relatively easy these days, but for industrial modifications, make sure you are working with a company that has experience in project like yours. Most companies will not do the engineering for you, but they can help you think through how your plans will work and may be able to suggestion solutions to issues you are having.
Industrial projects have the largest range of modifications from steel-plated floors to welding in specialty equipment. You are only limited by your imagination, well, and your client's budget.