As 2012 comes to a close, we are looking to clear out some inventory. We have two 20′ containers in Minneapolis. They are wind and water tight, good floors, have good seals on the doors and good roofs. We're just trying to make room for some incoming inventory of the same quality. Click on pictures to make them larger.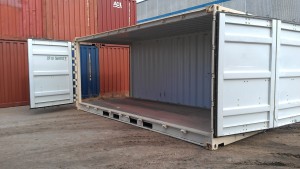 We also still have four 20′ open-side containers in Chicago that we are selling on consignment for a customer. They were made in 2011, shipped to Chicago, used for a couple of months indoors and are now available for sale.
Please call with your best offers, 877-374-5452.